Detached house in Tottenham ($230K)
Detached 2-storey house in Tottenham.
Location
Address: 87 McKnight Cres, Tottenham, Ontario
The major intersection: Queen St / 5th Line, Tottenham, ON.
MLS area - N19.
Price
$229,900.00.
To be honest I am not so familiar with Tottenham real estate prices but comparing them to Toronto prices those looe very very good. At the same time if you have to commute to your workplace to Toronto / Brampton / Concord / Richmond Hill then this location (I mean Tottenham) is the same as Newmarket (where the real estate prices are 50% higher) - the distance to Highway 400 is almost the same.
The original price was $250K, then $235K, now it is $230K and I guess it's not the limit. It looks if you come and bring $220 offer the owner will be glad to discuss it, and maybe give you a tip for a beer. :)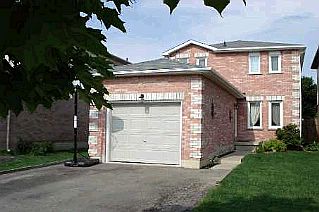 House Size
Approximately 1600 sq.ft. (160 sq.metres), plus finished basement.
House Age
Near 10-15 years old.
I'm always surprised why usually an agent doesn't know (doesn't tell?) exact size and age of the property.
Mistyfing those questions like I'm asking about some military secret...
Maybe they don't know really?
Property Type
Detached two-storey house in residential area.
There are central air conditioned and central vacuum in the house.
Lot size
30 x 105 feet (9 х 30 metres).
By the way it's not so huge lot even for GTA, not saying about such far-far-away areas like Tottenham.
Kitchen and Appliances
Clean and nice.
Absolutely good "my own home" environment, and to live here would bring no negative points.
Main Rooms
Dining room and living room have no visible separators and are practically the same big room.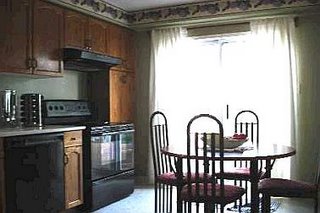 There are hardwood floors everywhere and it looks very organic with even not the biggest footage.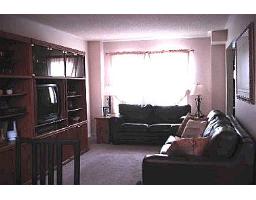 Bedrooms
There are three bedrooms on the second floor.
Looks pretty standard by Canadian tendency.
Basement
Basement is finished and spacious but unfortunately a bit dark.
No windows however nothing that looks wet or smells bad.
Driveway
The house has an attached garage for one car,
two more cars can be placed on paved driveway.
Backyard
Backyard is not very big but cosy and pleasant to be at.
Wood deck.
The backyard is bordered by tall wood fence.
Faces not to a neighbor but to a children playground which is very nice as for me.
No direct access to the playground though.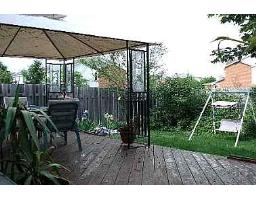 Area
The area is very nice, and it's not a surprise - so far from Toronto so good :)
Very clean and quiet.
Schools
Are very close to us, maybe 5 or 10 minutes of walking.
The area looks very safe (to allow children to walk themselves) because even cars are moving not so often. Like in any village in middle of nowhere though :)
Parks
There are few children playgrounds withing a walking distance, and a big park in 10 minutes of driving (Tottenham Conservation Area).
Shopping
Two big grocery stores are located on opposite ends of the town so no risk to die because of lack of food. Also the near-placed plazas have many small convenience stores that carry all the stuff required for life :) including few family doctors (it's hard to find one in Toronto, but here the situation is much better).
Transportation
Someone said there was a bus that can take you and move somewhere closer to the civilization. But I'm afraid living without a car is impossible in Tottenham.
Property Tax
~$2050.00 for the year of 2007.
Pros
Relatively low price.
Very nice neighbourhood - everything is very quiet, clean and near-by.
Far from noisy Toronto, another style of life.
Main manufactoring plant of Honda Canada (in Alliston) is withing 10-20 minutes of driving (that's regarding a job).
Cons
Anyway the house could be a bit more spacious.
The nearest hospital is in Newmarket (more than 30 km).
There is no variety of schools and after-school programs comparing to Toronto and/or suburbs.
Resume
Everythign depends on where you live and what style of life you prefer.
I mean for this house the question is not "I like the house or not", but "I like Tottenham or not".
The house is nice for a family with up to 4 people.
The price is good and you won't find anything like that in Toronto or GTA.
So if you work from home, or need to commute to Barrie, Alliston, Orangeville or Newmarket - this town can be suitable for you.
You can reach Hwy9/Hwy400 intersection in 10-15 minutes, there are steps to north Toronto from there.
My opinion - 7 out of 10.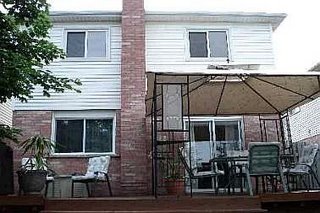 Technical details
Kitchen: 4.42 m x 3.05 m
Dining room: 7.17 m x 3.05 m
Living room: no data but it looks that the previous demensions (7.17 m x 3.05 m) are for both Dining & Living rooms together
Master bedroom: 3.75 m x 3.35 m
Bedroom 2: 3.35 m x 2.52 m
Bedroom 3: 3.11 m x 2.67 m
Game room in basement: 6.86 m x 4.12 m
Laundry room in basement: 4 m x 2 m
Labels: $200-250K, $200-300K, $225-250K, 2 Storeys, 3 bedrooms, 3 washrooms, Detached House, MLS area N19, Tottenham