Detached house for sale in Mount Albert ($400K)
Detached two-storey house for sale in Mt.Albert, Ontario.
Location
Address: 5832 Davis Dr, Mt.Albert, Ontario
Major intersection: Davis Dr / 9th Line, Mt.Albert, ON.
MLS area - N15.
Price
$399,900.
House Footage
Approx. 1000 sq.feet (100 sq.metres), the information is really approximate.
House Age
Don't be negative, don't tell me about this.
Persons with mental and psychical disorder, please don't read this.
Ready?
The house was built in 1870.
140 years old.
Property Type
"2-storey" house but really the second floor contains just a master bedroom and some strange lumber-room where you can hide something you prefer nobody would see.
Please be serious and don't ask me about CAC (central air conditioned), vacuum and other products of civilization.
There is a ceptic here.
Water comes from a personal well. The pump is in the basement.
I'm very impressed by the house, it looks like Black Creek Pioneer Village - I'm not sure how to live there but as an exhibition place it's very nice.
Lot Size
60 х 52 metres.
Kitchen and Appliances
There were something on the kitchen.
For sure it was something newer than a house but not so much.
Main Rooms
Kitchen and few other rooms are in grandma style.
The common impression is "this is our cottage for a while and when we are finally going home?"
Bedrooms
There are two bedrooms on the first floor and one more (which is actually master bedroom) on the second floor.
So you'll be able to spend a night somehow.
Basement
Basement looks like a screenshot taken from Doom2 computer game.
Mould dangling on the walls, smell of decay, rotten wood frame... wow...
Almost new water pipes look alien at this underground.
Driveway and Backyard
The yard (I cannot see a difference between a backyard and driveway - it's the same yard with the house in a corner) - so the yard is big enough.
There were a pool and a hot-tub with a heating... almost new...
Besides the house, the property includes three big sheds/barns where you can store some hardware, tractors, heavy tanks and elements of small aviation (just kidding... not enough room for an airplane).
The yard 60х60 metres is not a children playground.
Area
Country side.
The neighbors are those who live on country side as well.
The next house to West is a good farm where you can pick up your own strawberry.
Schools
The nearest school in Mount Albert, it's near 5 kilometres away.
School bus helps you to reach your goals.
Parks
We cannot talk about parks on the country side.
The closest neighbor is in a half a kilometer away.
Shopping
10-15 minutes of driving to Newmarket where you can find everything you may need - grocery stores, hospital, movie theatres, etc.
Public Transit
Not at all.
Transportation is yours.
Property Tax
~$2400.00 in 2007.
I guess government has to pay for this house instead.
I suppose the house can be included into the list of ancient objects by UNESCO.
Pros
The neighbors are far away.
The large yard can be nice for those who need to store/fix/maintain something (landscape contractors, cars/bikes parts, some agricultural hardware).
Cons
The house is relatively small.
The house is
relatively
old. "Old" is not correct word. The house is ancient and shabby. However you can consider demolition and raising a brand new building on the lot.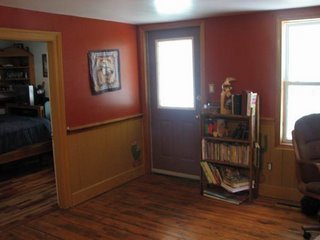 Life on Davis Drive is a life on highway. It's noisy, the cars are passin by every 15 seconds. Speed limit is 80 km/h here that means everyone drives 100-120 km/h that means you cannot leave your children alone for even a second.
A cemetery across the road.
Resume
If you are in construction/landscaping business you can consider this property.
The rest can see despondency in each detail.
The price (400K) on my opinion must be reduced twice because of the house is not supposed to shelter anyone. I would consider it as a cottage to spend a few nights at as a fun.
My personal opinion - 2 out of 10.
Dimensions
Family room: 4.90 m x 4.60 m
Living room: 5.20 m x 4 m
Kitchen: 4.20 m x 2.20 m
Dining room: 4.70 m x 4.70 m
Bedroom 2: 2.80 m x 2.64 m
Bedroom 3: 2.85 m x 2.55 m
Office: 5.84 m x 2.90 m
Master bedroom: 5.20 m x 4 m
Labels: $300-400K, $350-400K, $375-400K, 1 washroom, 2 Storeys, 3 bedrooms, Detached House, MLS area N15, Mt.Albert