House for sale in Brampton ($430K)
Interested in buying real estate property in Canada?
Take a look at Brampton - one of the most affordable areas near Toronto!
Detached two-storey house in Brampton for sale.
Location
Address: 266 Fernforest Dr, Brampton, Ontario.
The main intersection: Bovaird Dr. East / Bramalea Rd., Brampton, Ontario.
MLS area - W24.
Price
$429,000.
A little bit reduced.
Previously the house was for sale for 449K.
The owners are already moved out so are paying two mortgages now. That means they would be very flexible in case of any (of course reasonable preferably) offer.
Footage
Approximately 2500 sq.feet (250 sq.m.), plus finished basement which is usually not included into declared house size.
House Age
Near 12-15 year.
New roof in 2007th.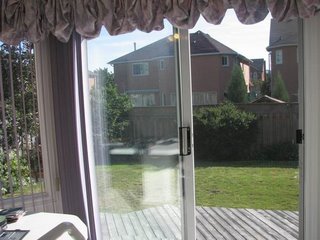 Everything looks very nice.
Property Type
Detached 2-storey house with finished basement.
2-car garage.
Lot Size
41 x 110 feet (12 х 33 metres).
Kitchen and Appliances
The best impression.
Everything looks like new.
If move-in date is tomorrow I think you wouldn't even do any cleaning.
Nobody lives in the house now so I guess a complete cleaning was done at the time of moving out. Everything just shines.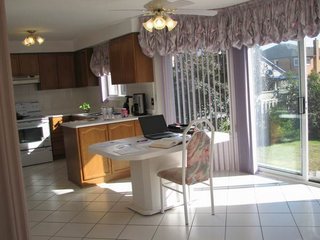 Main Rooms
All the rooms are big, light and spacious.
Not comparable to other houses (at the same price range) located at other areas of Toronto suburbs.
Hardwood floor are everywhere on the first floor.
Bedrooms
Master bedroom has very unusual panoramic windows that make a kind of semicircle on the wall (right on perimeter of the house which is non-rectangular).
Also there are many windows in a bedroom that faces to driveway but that one can be considered as a game room, not bedroom. But it depends on your requirements..
Basement
The basement is finished and well-done.I cannot say it is too light (it is hard to modify when the house is already constructed) but being there is absolutely comfortable.
No strange smells.
Driveway
The driveway is for 4 cars.
It looks inconvenient that the house is located at Fernforest Dr which is actually very busy.
So driving out of driveway becomes a problem and often can be a dangerous action.
Backyard
The backyard is pretty standard, contains nice deck.
Faces to neighbors so there is no special privacy.
Area
The area is very Indian.
Turbans and saris are everywhere - on streets, stores and children playgrounds.
Wind brings smell of curry.
So all the attributes of Indian culture is here.
Schools
Across the street -
Father Michael J. McGivney Catholic School
.
Parks
Within 5-10 minutes of walking you can reach Upwood Park and Sandringham Park.
Shopping
5-10 minutes of driving.
Public Transit
Highway 410 is in 5 minutes of driving.
Local Brampton buses are on Bramalea, Bovaird, Dixie and Sandalwood which are in 5-10 minutes of walk.
Property Tax
$3830 in 2008.
Pros
The house is big, light and pleasant.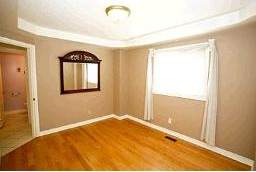 Cons
The area is a bit far from Toronto so you may experience troubles with commuting if work there.
Not really multicultural neighborhood.
Resume
It is really hard to say...
My personal opinion about the property - 7 out of 10.
Technical Details
Living room: 4.18 m x 3.29 m
Dining room: 4 m x 2.90 m
Kitchen: 6.10 m x 3.96 m
Family room: 4.46 m x 3.29 m
Master bedroom: 5.31 m x 4.31 m
Bedroom 2: 5.28 m x 4.14 m
Bedroom 3: 3.28 m x 3.20 m
Bedroom 4: 3.21 m x 2.94 m
Labels: $400-450K, $400-500K, $425-450K, 2 Storeys, 4 washrooms, 6 bedrooms, Brampton, Detached House, MLS area W24