Detached House (bungalow) in Bradford ($310K)
Detached bungalow in Bradford.
Location
Address: 4322 Sixth Line, Bradford, Ontario
Main intersection - Hwy27 / Hwy88.
MLS area: N18.
Bradford - that's something north-west of Newmarket.
The town itself is a bit closer to Newmarket, but this particular house is located in so called rural area which is country life as I understand it.
No central sewer system,
the output goes to ceptic which has to be emptied and cleaned once per few years. I am personally a bit scared by these devices but it works somehow and most of the houses in rural areas use ceptics. Hmm.. ok...
But life in rural area definitely has some positive moments like having less noise, less neighbours and the distances are much longer.
Price
$309,900.00.
The price is not so high but it's hard to understand whether the reason is the location (middle of nowhere) or something wrong with the house itself.
Footage
At my opinion the house has 1000-1100 sq.ft (100-110 sq.metres), plus finished basement (almost the same size).
House Age
Approx. 30 years old, according to real estate agent.
Property type
Detached house, bungalow (one floor plus basement).
However I wouldn't expect anything else from an old house in rural area.
I think 30 years ago nobody tried to save few more sq.feet of land.
Lot size
100 x 200 feet (30 х 61 metres).
Kitchen and appliances
Nobody lives in the house now since the owner made full renovation and left so there are no major appliances, You'll have to bring your own ones.
Main Rooms
There is a dining room, not so big, near the kitchen. It faces to the big window so you can see your driveway and the entrance to your lot while eating/sitting. Very bright and beautiful so no doubts it's a pleasure to have a dinner there.
Nice and big family room.
Hardwood floors everywhere except bedrooms (carpet) and washrooms/kitchen (tiles).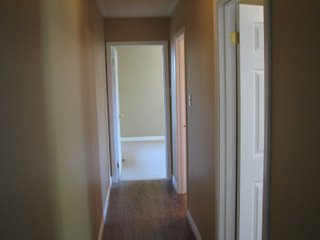 Bedrooms
Bedrooms are tiny. One bedroom is pretty small, another one (master bedroom) is a bit bigger but anyway it's not so impressive.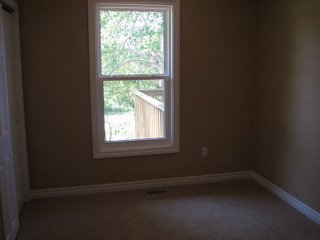 But that may make sense: I never understood why the bedroom should be huge. I guess it's better to have more space for children to play instead of for adults to sleep.
One more small bedroom you can see in basement.
However it has no windows at all.
Very hard impression.
It looks like you can practice enforcing sleeping there as a punishment.
Basement
Basement is walk out (not an usual feature in houses for sale in Bradford and Toronto) so you can step out right to backyard.
The basement is bright and light enough.
The bedroom in basement looks not so perfect as for me (as already mentioned). You can however use it as a storage room.
There is a real wood fireplace, that's something I really liked.
Driveway
No driveway as we understand it.
Just not-paved piece of one-direction road coming directly to the house.
Logically there is a designated space for two-car garage right near the house so you can build it if you want. But the cars can be parked as it is now, without a roof.
Backyard
The backyard is nice.
Why I usually don't like rural area houses is their ceptic system, and why I like them is their backyards.
It is wide, deep, very close to nature and looks great.
The house located on a hill so backyard is a bit uneven. But that's not a negative point.
However the problem with the backyard is there is a major road (highway 27) visible from the backyard. Frankly speaking it breaks the feeling of seclusion and doesn't help meditation.
Area
Non-immigrant population, very nice and not depraved by big cities.
Nice people until you make them angry :)
Schools
Usually no schools withing walking distance in rural areas.
But schoolbus can take your children and then bring them back so it doesn't look as a problem.
Parks
The whole are is a big park.
You can live in the park - was it that you dreamed about?
Shopping
The nearest grocery store is in Bradford, approximately 10 minutes of driving.
If something minor required urgently feel free to go to the convenience store in 1 minute of driving.
Maybe not so convenient comparing to residential area but anyway...
Transportation
What transportation you guess can be an option is rural areas?
Your own truck is the best variant I think.
Property tax
~$3000.00 for the year of 2007.
Pros
Relatively low price.
Far away from big (and even small) cities.
No much neighbours in the neighbourhood.
Large backyard.
Walkout basement.
Recently completed renovation.
Cons
Far away from big (and even small) cities (you are right, that's in both lists - everything depends on your mood).
However it's a bit noisy from highway 27 that laid near by.
The house is not new.
No central sewer system.
Oil heating.
Resume
You can expect silence and quietness from a rural area house.
But it's a bit noisy, plus all the problems of rural areas.
Besides, there is a steep hill road between highway 27 and the house so I'm not sure you'll be able to drive uphill on your Civic in winter time after snowfall.
The rest is ok.
My mark: 5 out of 10.
Technical details
Kitchen: 6.90 m x 2.75 m
Dining room: 3.96 m x 2.70 m
Living room: 5.73 m x 4.90 m
Master bedroom: 4.30 m x 3.47 m
Bedroom 2: 3.53 m x 2.75
Kitchen in basement: 2.70 m x 2.62 m
Bedroom in basement: 3.53 m x 3.05 m
Family room in basement: 5.40 m x 4.17 m
Game room in basement: 5.70 m x 4.26 m
Labels: $300-325K, $300-350K, $300-400K, 2 washrooms, 3 bedrooms, Bradford, Bungalow, Detached House, MLS area N18