Detached house in Toronto, Beaches area ($1M)
Detached house in Toronto, on the Beaches.
Location
Address: 114 Edgewood Ave, Toronto, Ontario.
The main intersection: Queen St East/ Woodbine.
MLS area - E02.
Price
$999,500.
To be honest the price has confused me.
Taking a look at the picture and lot size (25 feet width) I supposed something was wrong in this game. So I decided to visit the house being just curious what houses could be for this price...
After seeing myself I would say the price is pretty reasonable.
Because this house is really different from other ones at this location.
Footage
Near 3000 sq.feet (300 sq.m.), plus finished basement.
House Age
8 years.
Finally I found an agent who knew the year of construction.
Property Type
Detached 3-storey house.
There are central air conditioner and central vacuum.
Hardwood floors are except bedrooms (where you can see carpet).
For an average house owner this beauty may look as a really luxury property.
Lot size
25 x 264 feet (7.5 х 80 metres).
The width is not so impressive however that's kind of old house legacy. And it's hard to expect anything else on the Beaches.
However the depth was a surprise.
Kitchen and appliances
Everything is new, clean and shiny.
Main room
There are many rooms you know...
According to the papers near 12 ones that looks like a true or close to true .. :)
4 washrooms.
5 bedrooms.
Two families I think can live together with pets, and sometimes invite guests and make parties.
Bedrooms
The bedrooms are located on the second floor.
Bright and spacious.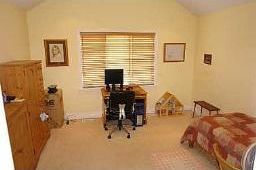 Basement
Basement is finished and makes the same nice impression as the house.
Driveway
The house has no garage, but by the papers it's declared 4 car driveway. I have certain doubts regarding that statement... or maybe those are Smarts/Minis supposed to be parked here, or maybe more serious cars but well-pressed up :)
Backyard
Backyard is not so wide but is definitely very deep.
I am really impressed.
Not so often can see so huge backyard relatively close to downtown.
Area
I thinks the Beaches always was a special and unique place in Toronto where you can feel the Art in the air. It's a place with high concentratiion of art people. But not even those who doing art for living. More even place with feeling of freedom. Freedom and a bit Europe. And this feeling is here, everyone can see it. That's why I' glad to go to Beaches when I'm tired of this American style of life.
Do you know why the area is called the Beaches?
It is on lakeshore of Ontario lake, there are large line of sand where you can find nice sand beach. Feel free to swim and acquire some tan there.
But Ontario is not a warm lake frankly speaking. :)
So because of that this area (few kilometres in radius) was called the Beaches.
Schools
In the centre of the city all the schools are usually very close to each other.
There are many of them on the Beaches.
Parks
The Beaches is one big park.
At least I consider it this way.
Shopping
There are many small (European-style) stores on the streets here.
I found even couple of tiny supermarkets, and of course they are not comparable to huge plazas somewhere in Richmond Hill. But nobody compares, c'mon... Your "enough" minimum is here, and we don't care about the rest...
Transportation
TTC (street cars and buses) are on every serious street (5 minutes of walking from any place on the Beaches). It may take 20 minutes of TTCing (or 10 minutes of "no traffic" driving) to downtown Toronto.
Property tax
$6500.00 for 2008.
Pros
The location si one of the best in Toronto.
This house is new (the old one has been demolished, brand new one been built from scratch), and the new house cannot be compared to regular 100+ years house which are usual on the Beaches.
The house is really large. I would say - as large as the lot width may allow.
Quiet street however at the same time everything is close - shops, public transit, restaurants, schools, Ontario Lake.
Cons
The price.
Resume
If you are not shoked by the price I think this could be a nice variant.
The house makes an impression of holiday.
My opinion - 8 out of 10.
Technical details
Foyer: 5.50 m x 4.45 m
Living Room: 7.01 m x 5.80 m
Dining Room: 4.54 m x 4 m
Kitchen: 5.43 m x 4 m
Master bedroom: 8.03 m x 5.80 m
Bedroom 2: 4.82 m x 4 m
Bedroom 3: 3.66 m x 3.05 m
Family room/bedroom in the 3-rd floor: 10 m x 5.80 m
Game room in the basement: 8.35 m x 5.80 m
Bedroom in the basement: 5.82 m x 4.82 m
Labels: $900-1000K, $950-1000K, $975-1000K, 3 Storeys, 4 washrooms, 5 bedrooms, Beaches, Detached House, MLS area E02, Toronto