Bungalow in Keswick ($325K) for sale
A detached bungalow in Keswick (town of Georgina).
Location
Adress: 435 Lake Dr. South, Keswick, Ontario.
Major intersection - Queensways South / Glenwoods Ave, Keswick, Ontario.
MLS area - N17.
Price
$324,900.
Footage
Approx. 1500 sq.feet (150 sq.m) within several levels.
House Age
Strictly protected information, hasn't been disclosed even after direct question.
Answered "too many upgrades for the last year".
By feeling, the house is very old.
I wouldn't guarantee 100 years but easy 70 or 80.
Internal decorating is almost modern (if you consider 10-20 years old as a modern).
Property Type
Detached bungalow, backsplit.
Half a level up you can see 3 bedrooms and almost luxurious bath.
Half a level down you'll find a separate apartment including a separate entrance (possible can be rented out).
No garage.
Lot Size
63 x 115 feet (19 х 34 metres).
Kitchen and Appliances
Tried to look nice but we can see their age as well.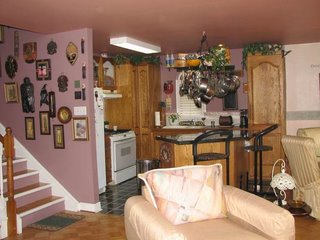 There is a central air conditioner.
Main Rooms
One big room (logically presented as two rooms) at the main floor, near kitchen.
So the whole main floor looks like one big room.
Bedrooms
There are three bedrooms on high level, one more is on low level.
Basement
I would say not basement but low (ground) level.
It contains a separate apartment.
The entrance is right from the ground and it is supposed it had to be light and bright here.
Surprisingly it is not.
There are so many mature trees near the house that not much light in the ground level (be honest also not much light on high level too).
Driveway
One car track, not even paved used here as a driveway.
3 cars can be parked here (but since the driveway is one car wide only one car can move when parked).
No garage as already mentioned above.
Backyard
Backyard is not so huge but I would say cozy and nice.
There is a hot tab on backyard.
Looks nice.
Area and Neighborhood
The area looks not so good being honest.
View to Simcoe is very nice but neighbors seemed a bit gloomy, and the neighborhood itself looks... hmmm... slightly slovenly.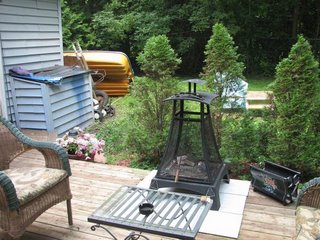 However I must say Keswick is nice place to live. I really liked it.
More about it you can find on
Georgina municipality website
.
And real estate property is still not overpriced here, especially comparing to Toronto closest suburbs.
Schools
What we can find withing a walking distance here? I would mention
Brock High School
and
Our Lady of the Lake Catholic College School
.
Parks
There is Simcoe Lake across the road. Here you'll see our private beach (the owner pays $45/year now)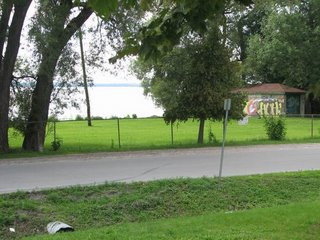 Shopping
On Queensway (10-15 minutes walk) you can see may small shops plus large grocery store Price Chopper. One more grocery store (Zehrs) you'll find on Woodbine (10 minutes drive).
Public Transit
Go and YRT (York Region Transit) buses are here.
Also local Georgina buses that make public transit in Keswick surprisingly wide and divaricate. For more information please visit
Municipality website
.
Property Tax
$3400 in 2008.
Pros
Simcoe Lake is just across the road.
The price is not skyscraper's.
There is sewer system, not septic as you may expect from such house.
Two families can live here not interfering to each other.
Cons
A bit far from everything (however it's a question to Keswick but not to this particular house).
The house is a bit old.
Installed alarm system ($35/month) also tells you about something.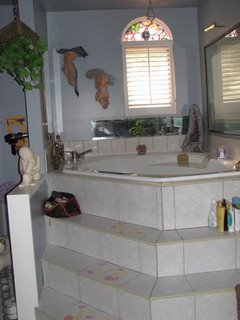 Resume
The house is old but at the first look is in a good condition (for the second look ask for your home inspector's opinion).
Dark colors of walls and ceilings are too hard to accept.
I guess the whole house will be much brighter if repaint everything in light colors.
A bit far from amenities however if you work from home (or don't work) then you can consider this property.
My personal opinion - 6 out of 10.
Technical Details
Living room: 5.79 m x 5 m
Dining room: 3.05 m x 3.05 m
Kitchen: 2.74 m x 2.62 m
Master bedroom: 3.99 m x 3.99 m
Bedroom 2: 3.35 m x 3.37 m
Bedroom 3: 3.07 m x 2.70 m
Recreational room in basement: 2.62 m x 2.70 m
Family room in basement: 3.99 m x 7.80 m
Bedroom in basement: 2.76 m x 2.71 m
Labels: $300-325K, $300-350K, $300-400K, 2 washrooms, 4 bedrooms, Backsplit, Detached House, Georgina, Keswick, MLS area N17