House for sale in Mississauga ($350K)
For the first review we have chosen a semidetached house in Mississauga, Ontario.
Location
Address: 422 Ginger Downs, Mississauga, Ontario
Main intersection: Cawthra/Dundas.
MLS region: W15.
Price
$349,900.00, this is already reduced price.
A month ago this house has been listed for the price of $364,900.00, so now we can see a tendency to slow moving down, i.e. negotiating is a must here - I'm sure it's not the last price.
Property size
Approximately 1600-1700 sq.ft. including finished basement
House Age
No data but I suppose may be near 20-25 years.
Property type
Semidetached house, so there are some neighbours behind the wall.
The selling agent is sure it is not a problem since the neighbiurs are quiet and the wall is isolated enough.
Maybe that's true.
At least for a half an hour spent in the house we didn't hear any noise at all.
It is a backsplit, i.e. entering the house we see a kitchen and living/dining rooms and then can go either upstairs for a half of a floor, to washroom and bedrooms, or downstairs (to the same a half of a floor) visitng basement.
Lot size
31 x 242 feet (9.5 х 74 metres).
Kitchen and appliances
Electrical stove looks pretty new. The fridge and dishwasher unfortunately not that much. If you decide to buy this house then maybe it makes sense to think about purchasing some new appliances as well. Of course it depends though :) The old ones are working so maybe it's not the number one purchase in your priority.
There is a CAC (central air conditioner) in the house.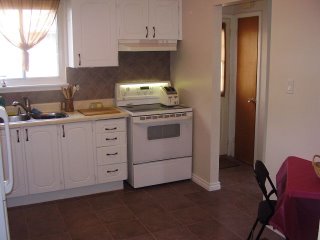 Main rooms
Practically speaking, the main room is the only one, but logically it is divided to dining room and living room. There are a table, sofa and TV set in the rooms.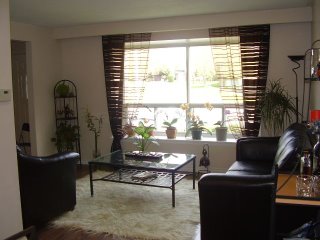 Hardwood floor and tiles everywhere, looks good enough.
There is a dog living in the house now.
Bedrooms
There are 3 bedrooms at the 1.5th floor.
To be honest, the bedrooms are not huge by size.
Dark colors of painting didn't make me much enthusiastic, but maybe you'l like it. Anyway it's not a big deal to repaint them into
black
more light and eyes-friendly colors.
Basement
The basement is finished,
there are washroom and shower (a cheap one from Home Depot but that's definitely better than nothing) in the basement.
The basement smells like someone's smoking there time by time.
All the rest is clean.
The agent says the smell can be removed by cleaning the ventilation pipes. I'm not sure about that but maybe she's right.
Driveway
The driveway is big and can accomodate up to 4 vehicles.
Besides, there is a gate that can be opened so two more cars can move into paved place almost at the backyard.
Backyard
The backyard is great.
Really, it is the most attractive part of the property.
It is wide and deep, and is definitely a nice place to play and take a rest.
There are an inflated pool (big enough for the whole family, or children party), also plastic garden house, swings, some bushes and trees.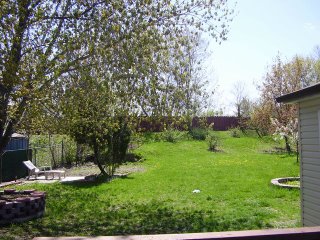 Area
The area is good.
Not the best probably but not so bad.
My concerns were 2 rental buildings in 5 minutes of walking but overall the area is average, with its pros and cons.
No specific nationality/foreign language dominated.
Livable.
Schools
A secondary school in 5 minutes of walking.
Parks
5-10 minutes of walking can bring you into one of two big parks - CedarBrae Park and McKenzie Park. In 15-20 minutes of driving you can find more seriuos parks. So we can talk about family neighbourhood where you can walk with children or pets.
Shopping
No information, sorry...
Transport/commuting
GO station
Cooksville
(buses and trains to Toronto downtown) is located in 10 minutes of driving (20-30 minutes of walking).
Property Tax
~$3000.00 for year of 2007.
Pros
Super backyard
Family neighbourhood
Quiet street
Cons
The major concern for me was a railway right near the backyard. And it is railway for GO Trains which are passing nearby quite often in morning and evening hours. Let's say for the half an hour spent there we noticed two trains come through. They are a bit noisy and annoying. And 6am train may be surprise for someone :)
Also I would add the house age to Cons list. I cannot say it is very old house but it is definitely not new.
Also the house size.
Honestly it is not a big house. I would rather say - a small house...
Resume
For a not so big family (up to 3-4 people) that could be a good choice.
Feeling about area are good.
And the overall opinion is positive.
If you can live with a railway on your backyard.
My rate: 6 out of 10.
Not so interesting technical details
Kitchen: 3.66 m x 3.01 m
Living room: 2.68 m x 3.17 m
Dining room: 3.05 m x 4.23 m
Master bedroom: 3.36 m x 3.01 m
Bedroom 2: 2.74 m x 3.05 m
Bedroom 3: 2.60 m x 3.93 m
Basement: 6.09 m x 3.66 m
Bedroom in the basement: 2.90 m x 2.50 m
Labels: $300-350K, $300-400K, $325-350K, 2 washrooms, 3 bedrooms, Backsplit, House, Mississauga, MLS area W15, Semidetached