A detached house in Etobicoke ($750K)
A detached one-storey house (bungalow) in Toronto (Etobicoke district).
Location
Address: 181 Royalavon Cres, Toronto, Ontario.
Main intersection: Kipling / Burnhamthorpe, Toronto, Ontario.
MLS district - W08.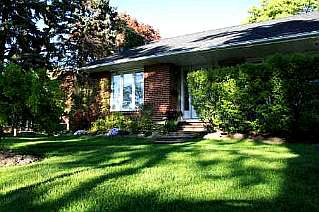 Price
$749,000.
Area
about 1000-1200 square feet (100-120 square meters).
Plus the basement of the same measure
The age of the house is
about 50 years old.
But, frankly speaking, you won't tell by it.
It looks a spry man.
Type of real estate
A detached house with finished basement (with a separate entrance).
Single car garage.
The size of the lot
50 x 150 feet (15 х 45 meters).
Kitchen and household appliances
Everything's new, stainless steel, combined into kitchen furniture.
Counter tops of granite
Central air-conditioner.
The main rooms
In spite of the age, everything is designed sensibly.
All looks quite spacious.
It's seen that recently (in 2006) certain alterations and renovations have taken place.
Gas fireplace.
There is parquet on the first floor.
High ceillings and windows in the roof (even in the toilets) impress greatly.
It looks super.
It's just the thing for those who suffer from claustrophobia.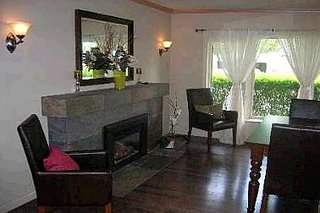 Bedrooms
2 bedrooms on the first floor, and two more in the basement.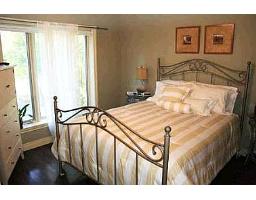 Basement
A finished basement with a separate entrance without any strange smells.
Average lightness, but in general, it's suitable for living.
A separate entrance from Burnhamthorpe, so you can subrent it or use the house for two families.
Driveway
The house is in the corner of Burnhamthorpe и Royalavon St., so it has two driveways - one from both entrances. The only garage, though, more than that for one car, and more than that a kind of ancient and decrepit.
Each driveway would accommodate 2 cars.
Backyard
The backyard is average in its size, but very cosy.
It's seen nothing from the street, encloused by thick bushes.
There's a pool with a fountain-falls (naturally, electric) in the backyard. It looks beautiful, impresses greatly.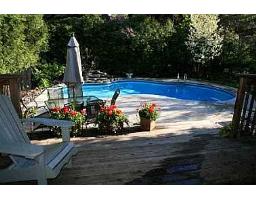 The walls of the pool are concrete, not plastic. Built in 2002.
The agent asserts that you can leave the water in for winter season, as concrete is durable, It won't be broken. I would have argued to this, but didn't do that. It's better to pour the water out for winter season, it'll be much more healthful. So be ready for addituonal costs. Besides, the insurance for a house with a pool is a bit higher, as a pool, you know, water and nature, there's no fence, children running, and two metre depth ...
District
The area is good, without any doubt.
The most of newcomers can't afford to buy a lodging here, but the district is not at all bad.... So, Etobicoke is regarded here as quite a pleasant district (of course, excepting such monsters as Forest Hill or Post Road).
Schools
The nearest schools -
Islington JMS
(a 10-15 minutes walk) и
Etobicoke CI
(somewhat farther).
Parks
Quite near - Islington Golf Club, Thomson Riley Park и Echo Valley Park (farther north to the districts of other parks).
Shops
It seems there are no large supermaekets within the distance of a short walk, but there are small shops in Dundas (a 15 minutes walk),and within the distance of 10 - 15 minutes ride - No Frills, and Costco, and many others.
Transport
Subway Kipling - within the distance of 15 - 20 minutes walk.
Or two minutes to the bus station, and the bus will bring you to the subway.
It's probably one of the main reasons of popularity of this district.
It will take you 3 minutes of ride to reach the highway (427), and from 427 - 5 minutes to 401, and to QEW.
Property tax
$3500 in 2008th.
Impressively low.
The agent explains that it's an old bungalow, aged to the times of baby-boom, and the municipal government has kept low taxes,haven't let them rise since long ago.
Maybe out of respect for the people living here who aren't to blame that their houses cost more than a million.
Pros
The district is old, comfortable and well settled.
Sky lights windows in the ceiling look very nice.
The pool and the falls are not at all bad.
The subway is at arm's length.
Cons
The price is a bit high, but no one is to blame that for lower price you can find either something sensless or in Newmarket.
The windows look out a street with intensive traffic (it's very dangerous to let the children out).
General thoughts
The house is in good state and seems to be quite pleasant.
The subway and the highway (427) are quite near.
The price seems to be a bit high, but to my mind, it'll be going down.
My rating of the house is - 8 out of 10.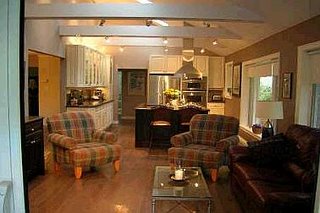 Technical details
Living room: 4.32 m x 5.04 m
Dining room: 4.32 m x 5.04 m
Kitchen: 4 m x 3.17 m
Family room: 4.01 m x 5.76 m
Master bedroom: 3.33 m x 3.60 m
Bedroom 2: 3.38 m x 3.65 m
Room in the basement: 5.60 m x 3.60 m
Bedroom 3 in the basement: 5.58 m x 3.90 m
Bedroom 4 in the basement: 3.20 m x 3.10 m
Labels: $700-750K, $700-800K, $725-750K, 2 washrooms, 2+2 bedrooms, Bungalow, Etobicoke, MLS area W08, Toronto