Detached house for sale in Sharon / East Gwillimbury ($740K)
Detached bungalow in Sharon, East Gwillimbury.
Location
Address: 65 David Wilson Trail, Sharon, Ontario.
Main intersection - Leslie / Green Lane, East Gwillimbury, Ontario.
MLS area - N15.
Price
$739,000.
The price has recently been reduced for $40,000 (the previous price - $779,000).
Footage
Near 2500 sq.ft (250 sq.m)
The House Age
Built in 1996, so now it's near 12 years old.
Property Type
A detached one-storey house (bungalow) plus started but not completely finished basement. Three cars garage.
Lot Size
98 x 233 feet (29 х 70 metres).
Kitchen and Appliances
Marble counter tops (renewed in 2007).
Spacious, bright and very clean.
All the appliances in very good condition.
Although you can see they are not new.
There are central air conditioner (CAC) and central vacuum.
Main Rooms
There are enough rooms and it looks that's enough for everyone.
Some rooms have strange green carpet.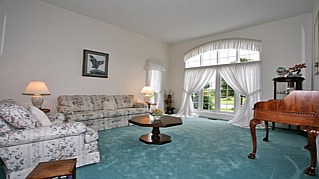 Some other have hardwood floor, in very good shape, no even any scratch.
The house includes eight rooms including three bedrooms.
Bedrooms
3 bedrooms.
There are 3 washrooms - per each bedroom.
Basement
The basement is big and potentially nice, like the house itself.
The floor is just painted, and all the walls are covered by drywall (I guess some insulation stuff is hidden under it) - that's pretty much it.
But there is really enough space.
Not much light though.
Driveway
Driveway is professionally landscaped.
Can accomodate 6 or even 9 cars.
I also must say that everything in the house shows some expanse so no compromises in any rooms or even any detail.
Backyard
Backyard faces absolutely open space,
it looks like a farmer's field at the backyard.
We can guess such situation can be for a long time (or even forever) but the selling agent gave a tip to contact municipality and confirm plans about this area development.
To be honest we have to note the civilization is far far away so we can assume no builders will be here for a nearest (or even not only the nearest) future.
Area
The area is very nice and it looks the neighbours are doctors, lawyers, business owners, i.e. not newcomers and first time buyers.
There are no 300K houses in the neighborhood so paying this price you can be sure your neighbours are at the same level as you.
Schools
There is a
school
within ten minutes of walking.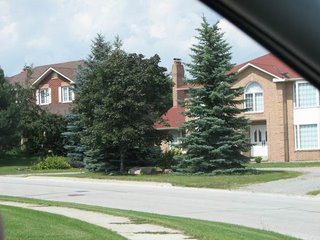 Parks
Rogers Reservoir Conservation Area is in 15 minutes of walking.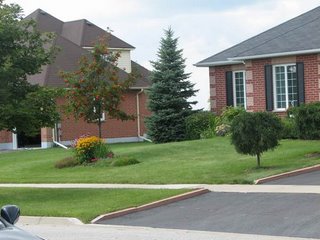 Shopping
A few small convenience stores can be found in the area but more serious grocery stores are in Newmarket which is in 10-15 minutes of driving.
Public Transit
It's almost unbelievable but there is a line of YRT (York Region Transit) buses here. But for sure in such remote areas our own car is the primary way of commuting. 5 minutes of driving -
East Gwillimbury Go Station
where you can start you trip to Toronto downtown (approximately one hour of train trip).
Property Tax
$6245 in 2008.
Pros
Really nice and beautiful house,
very pleasant neighborhood.
Cons
Price.
No sewer system (there is a ceptic).
Resume
The house is very nice if you are ok with the price.
Far away from city's noise,
right on fresh air,
with all the advantages of modern life (all amenities are within 15 minutes of driving).
The owner is a lady 80+ years old so all the walls/floors/appliances are in just perfect condition.
Overall the price looks reasonable.
My personal opinion - 8 out of 10.
Technical Details
Living room: 4.90 m x 4.13 m
Dining room: 4.49 m x 3.42 m
Family room: 5.28 m x 4.27 m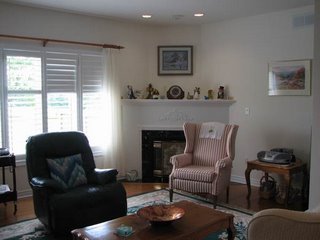 Kitchen: 4.32 m x 3.91 m
Eating area: 2.30 m x 3.91 m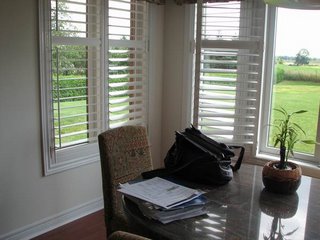 Master bedroom: 4.03 m x 6.12 m
Bedroom 2: 4.08 m x 3.35 m
Bedroom 3: 4.34 m x 3.35 m
Labels: $700-800K, $750-775K, $750-800K, 3 bedrooms, 3 washrooms, Bungalow, Detached House, East Gwillimbury, MLS area N15, Sharon